********************************************************************************
WOMEN'S HISTORY EVENT A SUCCESS
CELEBRATE WOMEN! was the theme of our Women's History Month event.  The National Women's History Project 2015 theme "Weaving the Stories of women's Lives" inspired us to invite high school and middle school girls from Girls Inc. and Girl Scouts to interview local women.  All who attended gained from the sharing of women's challenges, struggles and accomplishments.
The four AAAU members who attended    the Girls Inc.'s Annual luncheon were inspired and impressed.  As always, the girls were the highlight of the event…leading an ecumenical blessing, introducing the  speakers, and generally delighting the crowd.  From kindergarten to high school, each girl addressed the crowd with confidence.  Indeed, Girls Inc. is helping them to become "strong, smart and bold"!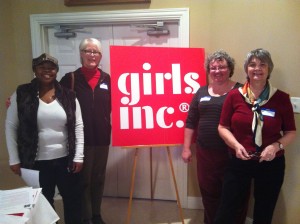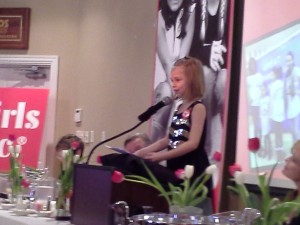 ATHENA AWARDS LUNCHEON…CONGRATULATIONS TO FINALIST KIT GALLAGHER
ALWAYS A WINNER IN OUR EYES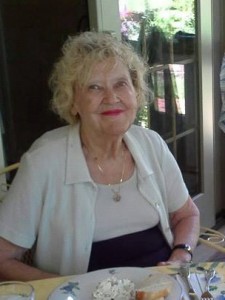 OWENSBORO AAUW CELEBRATES 60 YEARS!
A group of very progressive women met in October of 1953 to consider forming a branch of AAUW in Owensboro. These included women from the community (teachers, school administrators and a lawyer) and faculty and staff from Kentucky Wesleyan College. The groundwork they laid resulted in Owensboro AAUW being granted a charter from AAUW in February 1954. Since that time, our branch has been involved in a variety of projects resulting in increased awareness of issues of equity.
We've been doing "get out the vote" campaigns and candidate forums since the early '60's; investigated Title IX compliance in the '80's, presented trainings on acquaintance rape in the mid '80's and conducted a child care needs study in 1990. Our collaboration with Girls Inc. began with Eleanor Roosevelt birthday celebrations and has grown to include commemoration of Women's Equality Day and Women's History Month.
On Saturday, October 4th, we gathered with members, supporters and friends to honor the families of our founders.  We were please to share our history with the families of Louise Gasser Kirtley, Elizabeth Gasser, Shirley Meacham, Kathy Smith, Augusta Hager and Doris Campbell.
.
ELIZABETH GASSER
OUR FIRST BRANCH PRESIDENT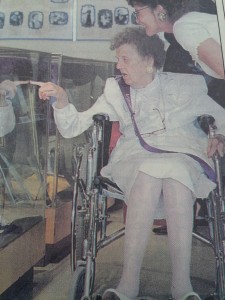 Elizabeth Gasser (1905-1999) was the first president of Owensboro AAUW in February 1954. She was valedictorian of Owensboro High School's class of 1922 and graduated from Smith College with a degree in French Literature. She taught French and Latin at Daviess County High School for more than 40 years. An avid supporter of women's rights, she taught Senator Wendell Ford and supported her sister Louise's political career. The accompanying picture demonstrates her continued involvement in women's issues. It was taken at the celebration of the 75th anniversary of the women's vote in 1995. She was a beloved teacher and bridge player, known affectionately as "Aunt Boo".