WOMEN'S HISTORY MONTH CELEBRATION
SUNDAY, MARCH 12, 2023, 2:00-4:00 p.m.  OWENSBORO MUSEUM OF SCIENCE AND HISTORY
HONORING JUDITH JACKSON 1831-1916;, KATHERINE RUDY 1873-1954;, CLEMMIE WOLF 1877-1918;, LOUISE KIRTLEY 1903-1972; , JESSIE HOWARD 1893-1980;, OLIVE BURROUGHS 1950-2003;, CLARA OLDHAM 1921-2005; and SISTER DIANA ORTIZ 1958-2021.                              ALL WOMEN WHO MADE A DIFFERENCE IN OUR COMMUNITY THROUGH THEIR WILLINGNESS TO BREAK DOWN BARRIERS TO EQUALITY.
CELEBRATING 102 YEARS of WOMEN'S SUFFRAGE
On August 24, 2022 we celebrated102 years of the women's vote.  a good crowd oined us on the Daviess County Courthouse lawn at 4:30 P.M. to hear keynote speaker Cassie Chambers Armstrong. Armstrong teaches at U. of Louisville Brandeis School of Law, is a member of the Louisville Metro council, teaches constitutional law, and is a strong advocate for women's rights.  This year, more than ever, we need to exercise are hard-won rights!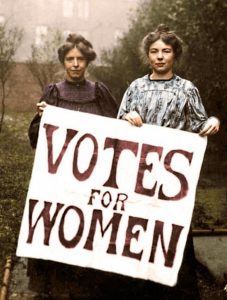 ---
WOMEN'S HISTORY MONTH 2022
Our Branch celebrated by launching a self-guided walking tour of Elmwood cemetery. We honored nine local women whose lives continue to impact our community.  Those honored were Mary Hale Dean, Mildred Summers Lucas, Francis Harrison Hays, Jessie Howard, Addie Talbott, Emma Edwards, Katherine Rudy, Elisabeth Gasser and Louise Gasser Kirtley. Look for the brochure, available at Elmwood Cemetery, the Owensboro Museum of Science and History, the Daviess County Public Library Kentucky Room. "Women Breaking Barriers" is complete with map, profiles and recorded narrative QR codes. AAUW members are available to lead tours or you may explore on your own. In addition, our Owensboro AAUW Facebook page celebrated Daviess County women whose actions contributed to our right to vote, learn and participated fully in our community.
Coming Up —–
FRIDAY, MARCH 31, 2023 6:00 P.M.  BOOK GROUP: The Forgotten Garden by Kate Morton.
Email jadams11_2008@yahoo.com to rsvp.
Build the Library at Girls Inc.
Help build an anti-racism library for the girls. Suggested titles can be found at the Girls Inc. of Owensboro Amazon Wish List.
Conversations on Race and Equity
We're reviving this series. It's more important than ever that we support civil discourse about the critical issues facing our community. If you're interested in helping out, let us know at  aauw.owensboro@gmail.com.
---
AAUW's Mission
AAUW advances equity for women and girls through advocacy, education, philanthropy, and research.
AAUW's Value Promise
By joining AAUW, you belong to a community that breaks through educational and economic barriers so that all women and girls have a fair chance.