WOMEN'S EQUALITY DAY… CELEBRATE 97 YEARS OF THE WOMEN'S VOTE
AUGUST 24th 6:30 at the DAVIESS COUNTY PUBLIC LIBRARY
INEZ MILHOLLAND…"FORWARD INTO THE LIGHT"
DISCUSSION FOLLOWING by ALOMA DEW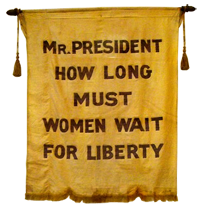 CELEBRATE THE 96TH ANNIVERSARY OF SUFFRAGE
WOMEN'S EQUALITY DAY, AUGUST 26TH, 2016 4:00 P.M. at the Owensboro Museum of Science and History
and
SATURDAY, AUGUST 27TH, 2016 6:00 p.m. "IRON JAWED ANGELS" at the Daviess County Public Library
Stop by our booth at the Owensboro Multicultural Festival, August 20th, 11:00 -5:00 at First Presbyterian Church 1328 Griffith Ave. Owensboro
DREAMERS AND DOERS PREMIERS TOAN ENTHUSISTIC AUDIENCE!
This documentary, produced by the Kentucky Commission on Women, highlights the contributions of previously unsung "sheroes" in the struggle for equality in Kentucky.  It will be made available to all Kentucky high schools and middle schools.
UPDATE!  Owensboro AAUW collected over 54 phones and numerous chargers to support services for victims of domestic violence.  KUDOS!
Donate your used wireless devices and accessories.  Verizon will scrub them, if usable, and donate either phones or cash to support women in domestic violence situations.  Drop boxes are located around Owensboro at Nona's Downtown Market, the Crème, Moonlite BBQ, KWC (Darrel Center), New Beginnings, OCTC (English dept.), Zion UCC…so far.  We will be collecting throughout the month of October.  So clean out your junk drawers and bring drop off your donations!
                                                                                                                                                                                                                                                                                                              AAUW, TWN AND PLF HOST AMY GLENNON, CHARMS GIRLS INC. MEMBERS  

MARGARET BRITTON RECIEVES HONORARY LIFE  MEMBERSHP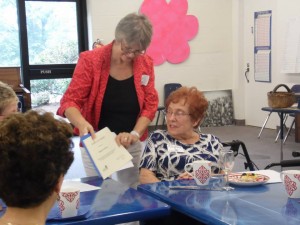 We were thrilled to be able to present Margaret Britton with an Honorary Life Membership in AAUW at our July 12th meeting. This represents 50 consecutive years of branch membership. As many of you are aware, Margaret has been a leader and role model for issues of reproductive freedom, the ERA and educational equity in this community ever since her freshman year at Kentucky Wesleyan College. When she returned to join the faculty in 1964, her friend and mentor Dr. Katie Peterson signed her up. The rest, as they say, is history. Lucky for us, it's our history too. Congratulations, Margaret!